Aberdeen, Hong Kong アバディーン香港仔
Aberdeen is an old fishing town on the south shore of Hong Kong Island.
アバディーン(香港仔)は香港島の南岸にある古い漁業の町です。
Aberdeen Harbour アバディーン港
Sampan Boat サンパン船
I visited Aberdeen Wholesale Fish Market Market in the morning.
朝のアバディーン卸売魚市場に入ってみました。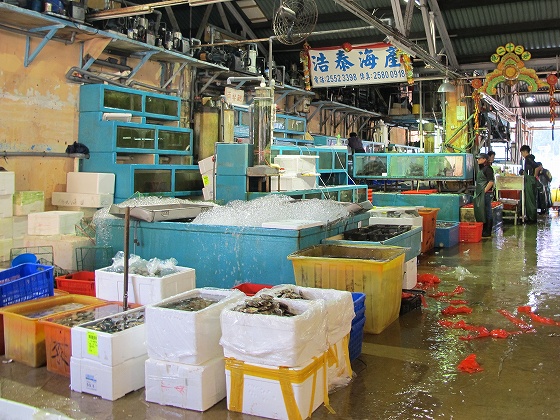 Various fish and shellfish were sold in the market.
Much water was running on the floor. You need long boots there.
In the market a man pointed his finger to my camera and said something in Cantonese.
Probably he said that I was required to get permission to take pictures in the market, I stopped taking pictures.
市場では様々な魚介類が扱われていました。
すごい量の水が床に流れているので、長靴をはいてないと厳しいです。
市場である人にカメラを指差され、広東語で何か言われましたが、なんとなく写真撮影は許可が必要だと言っているようだったので、撮影はやめました。
Aberdeen Square アバディーン・スクウェア(香港仔廣場)
View from Ocean Park オーシャンパーク(海洋公園)からの眺め
View from an airplane 飛行機からの眺め