Thirteen Hong Street, Guangzhou 十三行路,広州
Thirteen Hong, or Thirteen Factories was an area of Guangzhou where foreign trade was allowed in the 18~19th century.
It was Located near the north bank of the Pearl River.
There were factories of Denmark,Spain,USA,Sweden,Britain,Netherland etc.
The factories were burned down in 1856 during the Second Opium War.
Thirteen Hong Street marked the foreign enclave's northern boundary.
There remains Western Style buildings in the street.
Very busy,crowded street, no other than chaos.
広州の十三行、13ファクトリーは18~19世紀に外国貿易を許されていた地区です。
珠江の北岸から近くにあり、デンマーク、スペイン、アメリカ、 スウェーデン、イギリス、オランダなどのファクトリーがありました。
ちなみに英語のファクトリーは工場ではなく、外国にある貿易商人のための施設のことです。
1856年第二次アヘン戦争のときにファクトリーは焼かれたそうですが、北側の境界に位置する十三行路には西洋風の建築が残っています。
通りは非常にせわしなく混雑していて、まさにカオスでした。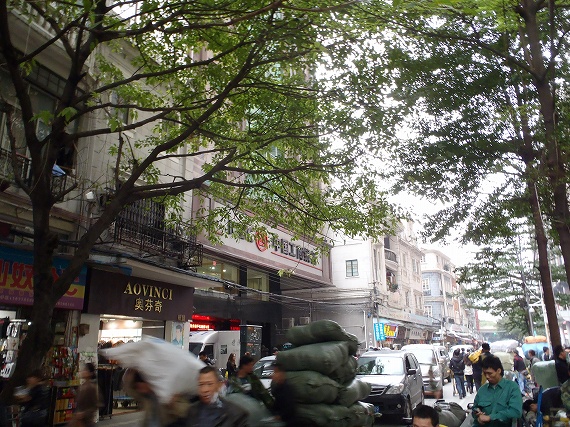 (2012-12-4)