Seoul National University ソウル大学
2013/5/29 visited
Seoul National University is considered one of the most famous and prestigious universities in South Korea.
The University was founded in 1946, it is located on the outskirt of Seoul at present.
It has very large campus, so the students use buses to move in the campus.
ソウル国立大学は韓国で最も有名で権威のある大学とされています。
1946年創立で、現在はソウル郊外にキャンパスがあります。
キャンパスはとても広く、学生たちはキャンパス内の移動にもバスを使っているそうです。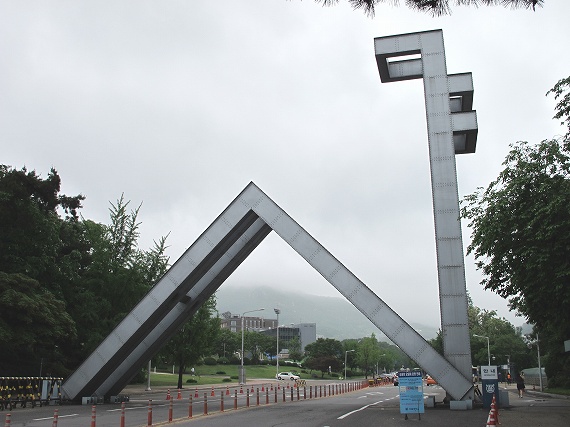 Main gate which modeled the Hangul characters ハングル文字をかたどった正門
The campus in the mountains away from the city, it may be best as a studying environment..
都会から離れた山の中のキャンパス。ある意味研究する環境としては最適かも・・
Museum of Art in Seoul National University ソウル大学内にある美術館
Perhaps because the time was early, it was not opened yet.
時間が早かったせいか、まだ開いていませんでした。
I walked in the campus and I got lost in the way back to the main gate.
So I asked a walking girl student in English, then she told me the way kindly in fluent English.
キャンパス内を散策していたところ、正門へ帰る道がわからなくなってしまいました。
そのため歩いていた女子学生に英語で尋ねたところ、流暢な英語で親切に帰り道を教えてくれました。